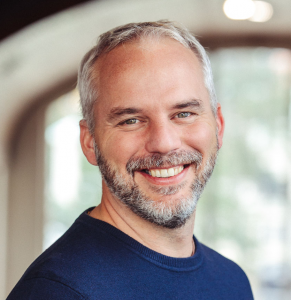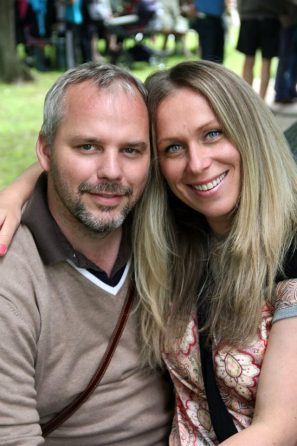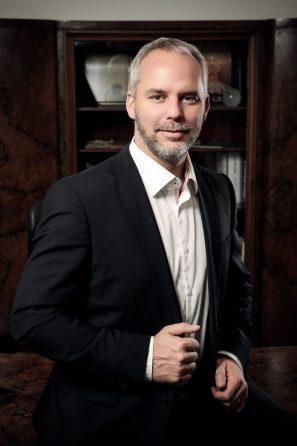 I like a good strategy and I like communication in all of its forms alongside creative marketing. Throughout my career I have always enjoyed building projects from the ground up; searching for the right direction and finding and adding the right people into the mix so that hand in hand the two can serve the vision and become independent in their actions, as they play a role in the evolution of all of us here on this beautiful planet.
Up until now I have organised well over 2,000 events from seminars and lectures to conferences, fairs, festivals and much more. Many of them took place in the Czech Republic, however many took me abroad. Mainly to Germany, Poland, Slovakia and Hungary for example. At these events I have had the distinct pleasure of presenting more than 460 personalities from around the world to their respective audiences for them to share their ideas and knowledge. 
I became a sole-trader right after coming out of high school and completing my basic training with the military. I jumped into the business world and that is where I am still, to this day. In 2000 I enriched my life with the wonderful experience of living in Toronto, Canada, and subsequently I represented the American company Morinda Inc. in the Czech Republic and in Slovakia.
In 2004, I co-founded the annual Biostyl and Esoterika fairs, which in 2008 expanded to include Ecoworld. A couple year later, in 2011 I took over Incheba's projects and under my direction we developed them into their current festival form as: FESTIVAL EVOLUTION. Over time this project become one of the largest European events focusing on a healthy lifestyle, personal development and other inspiring directions that one could pursue. Twice a year Festival Evolution opens its doors to thousands of visitors in Prague. In the future we plan to expand to other cities in the Czech and Slovak Republics. The Festival Evolution project is curated and organised by a great team and it is a pleasure to watch the project develop from year to year and to see the vision gain more and more dimensions, growing stronger as the years go by.
I strive to live a healthy life and to take care of the environment that we live in. That is why a part of my activities are heavily focused on this area - whether it is the aforementioned Festival Evolution, organising professional conferences on organic farming (Biosummit), or looking for new opportunities to improve marketing and PR in the field of bio and eco products and services.
I founded a non-profit organisation called FELICIUS, which focuses on organising cultural and educational events. I also set up the multicultural festival called PRAGUE GATES, which offered new perspectives on events and things around us, revealing other seemingly hidden dimensions and content within. I am also an executive at EVOLUTION HUB, which not only organises events, but also operates in marketing and PR activities.
I also collaborated with Karel Janeček and Tomáš Marada on activities of POSITIVE EVOLUTION. My wife Jana and I created an audiovisual performance called ŠIVOVO KOLO ŽIVOTA (Shiva's Wheel of Life), which premiered in 2012 at the ABC Theater. I also work with the prestigious PRAGUE BUSINESS CLUB, where I served as a vice president between 2010 and 2011. Among other things I am currently working with Petr Vachler on the preparation of the film The Secret and the Meaning of Life.
Between the years 2010 and 2016, I actively participated in the PROREGIONY project, which is based on promoting regional cooperation of entrepreneurs and mutual interaction of supply and demand in the said region. It brings together entrepreneurs and individuals working in the public sector and the non-profit sector and introduces them to the phenomenon of multiplication and modern methods of cooperation and communication. An important element of the project is education, ProRegiony offers a comprehensive educational program.
I was one of the lecturers in the lecture series on strengthening your business (POSILOVNA PODNIKÁNÍ) and the complementary seminar "SUPPORTING THE LOCAL ECONOMY IN PRACTICE". Examples of the project's output are for example the PLAY BROUMOVSKO exhibition and the BROUMOVSKO  IN PERSON (BROUMOVSKO oSOBnĚ) regional competition. Since 2020, the ProRegions project has continued its vision and journey. The main part of their work is in cooperation with the Institute of Circular Economics, where I was invited to the board of directors and I regularly help with the development of activities of this unique project.
I like to look to the future and to support visions that can move our society towards a sustainable and a better future. For this reason I became the founder of ŠTASTNÉ ČESKO, a fund which aims to measure and subsequently spread "gross domestic happiness" in the Czech Republic. The fund was created together with STEM - the Institute of Empirical Research based on the results of a public survey called Štěstí (Well-being), this survey has been carried out regularly in the Czech Republic since 2018.
I am also one of the founders of the online magazine FLOWEE.CZ, which offers its readers topics that support the idea of "smart living". Despite the fact that flowee.cz has only been in the media landscape for a short time, it has managed to get a lot of attention already. In the first six months of its existence, it had 7.5 million views and the editors published 300 articles a month. After 1 and a half years with the company, I successfully handed over the position of the "creative and visionary director" to the majority owner BIG MEDIA a.s. and subsequently I sold my minority stake. I still keep my fingers crossed for the project, although my long-term vision was rather different to the one that this portal profiles today.
After departing from the Flowee.cz project, I decided to put all my work and attention into artinii.com. A project which periodically returned to my list of priorities and repeatedly showed its worldwide potential. Since 2007, when I created the first mini-film-festival focused on films with a spiritual theme called "Spiritual Cinema", I have been thinking about a project that would allow me to order "public screenings" of interesting films from around the world with an ease. After a few years and several attempts at Czech and Slovakian distribution with the unique film "What the Bleep Do We Know!?" (USA / Canada, 2004, doku-drama) the core idea of the artinii.com project came back to me in 2015.
My longtime friend Vítek Krajíček and I put together a concept for artinii.com and we assembled the first team to implement the idea. Artinii.com - Art in Intelligent Interaction became a reality. We tested this concept with more than 160 screenings of the remastered Czech film classic Obecná Škola, on the occasion of Zdeněk Svěrák's 80th birthday.
In 2018, Vítek and I were given the opportunity to take this project further and we became part of the SEBRE incubator. We launched the project, went all in and we became the so-called StartUp. The whole project has grown and scaled up rapidly. Our solution enabled us to solve the issue of film security, AV content protection and its worldwide distribution.
The system enables fast and secure worldwide delivery of content without compromising the quality of the content. Meaning that you can still screen it on the largest screens. We currently have a "Patent pending" status in the USA for our entire technological system, which is capable of sending tens of thousands of films in one day worldwide.
The first official performance took place at the Karlovy Vary International Film Festival in 2019. Another milestone for us was the fact that we were selected among the TOP 3 innovative projects of 2020 at the Cannes Film Festival in the Cannes Next program. The artinii.com project already has partnerships in the USA and collaborates with many independent producers as well as large foreign studios and successful creators. 
A very interesting by product which appeared during the creation of the technological system for Artinii and became a full blown project in its own right is Mytitle.com. It is one of the first instances of applications of blockchain in practice in the Czech Republic. Built for ordinary people, companies, banks as well as state administration.
Mytitle spread all over the world with little marketing behind it. Our users come from more than 200 countries and in the first year of the project we have more than 110,000 satisfied users and hundreds of thousands of stored documents with a corresponding certificate. Mytitle.com has expanded abroad, opening an office in Japan, and it continues to cooperate with some of the World's largest law firms. It offers solutions not only for B2C scenarios, but also for B2B, B2Legal, and most importantly for the Industry.

Head in the sky, feet on the ground...